Hotel in Rishikesh - Book Now - ABD Holidays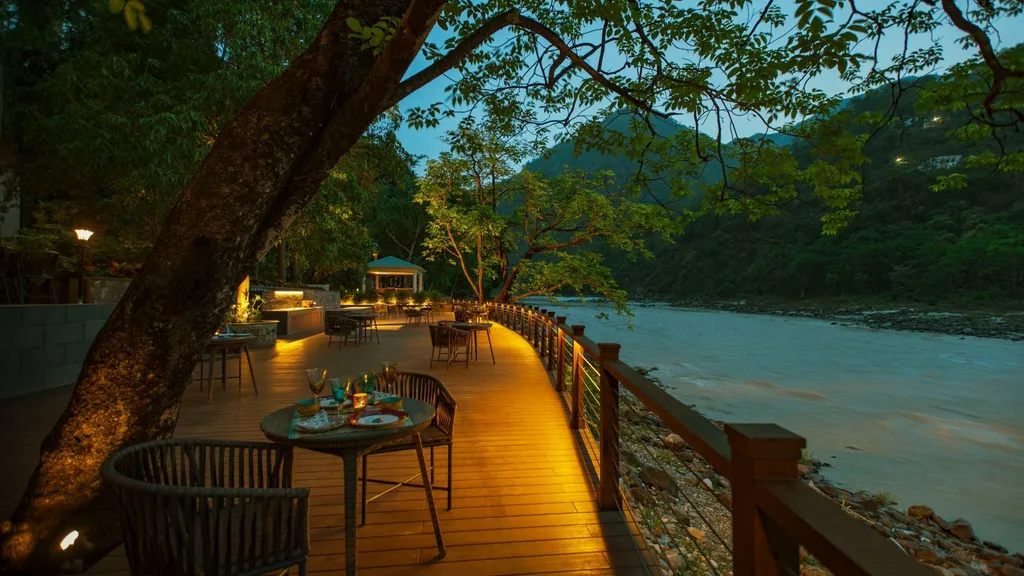 Imagine sitting by the holy ghats of Ganga overlooking the peaceful river or enjoying the sight of a billion stars littering the night sky while you're out camping. This is exactly what you can feel and experience when you visit the mesmerizing city of Rishikesh. Snuggled in the Himalayan foothills beside the Holy River Ganga, Rishikesh is the land of spirituality, yoga, adventure, and art.
If you're the one looking for your own Pray, Love adventure, Rishikesh is definitely a good place to visit.
Why should you visit Rishikesh?
Yoga is one of the main reasons to visit this beautiful town. Whether you are a beginner or an experienced yogi, Rishikesh is the perfect place for you. Here you can find an abundance of well-known yoga and meditation schools, institutional centers, and Ashrams (religious retreats), such as Parmarth Niketan, Rishikul Yogshala, Art of Living yoga school, and many more. Here you can also learn and practice yoga with the most traditional depth and authenticity.
Here, you can enjoy the benefits of Ayurveda, a traditional Indian medicine. The therapies and treatments of Ayurveda for ailments, weight loss, and beauty care are designed as per the requirements of a person. You can also assign yourself as a yogi and help your loved ones with yoga and Ayurveda.
Another major highlight of Rishikesh is the array of adventure activities it presents. It is one of the most popular places among adrenaline junkies to indulge in thrilling activities. The town is also called the Adventure Sports Capital of India, and therefore, is popular for its river rafting and white water rafting.
Rishikesh offers a lot more adventure sports and activities, including camping and bonfire, mountain cycling, kayaking, bungee jumping, as well as cliff jumping. You can perform all these activities at places such as Brahmapuri, Shivpuri, and Kaudiyala.
Rishikesh is commonly known as "The Land of God" and is one of the holiest places in the country that welcomes a high number of pilgrims and yogis every year. Here, you can feel the air buzzing electric with divinity all around. There is no doubt that spirituality comes from within but this place certainly motivates and inspires you to form a connection with the universal consciousness.
Rishikesh is also one of the three destinations that are famous for Ganga Aarti, alongside Haridwar and Varanasi. Ganga Aarti is a traditional spiritual ritual and is a beautiful and divine sight to behold. You can visit the Ashrams for meditation and temples for experiencing Kirtan, Mantra chanting, and Satsang. The most famous religious places in Rishikesh include Triveni Ghat, Parmarth Ghat, Parmarth Niketan, Neelkanth Mahadev Temple, and a lot more.
It might sound cliché, but truly there is no other sought-after place such as Rishikesh. If you are about to plan to visit the place, you definitely should engage with the best travel agency, ABD Holidays, to take you to all the beautiful places and popular attractions such as Ram Jhula, Laxman Jhula, Rajaji National Park, and the Beatles Ashram. Apart from these amazing locations, the real treasure of Rishikesh is found on the off-beat roads.
So go forth and venture yourself. You can also hire a scooter or bike on rent, and visit places such as winding mountain roads and cascading waterfalls away from the town. There are several secluded Ghats along the Ganga river banks where you can gather for a picnic or enjoy an epic sunset view with your loved ones.
Food is among the most important components that make a place worth traveling to. Rishikesh is no exception when it comes to the tastiest foods and cuisines. Because of the spiritual and mystical environment, the city produces alcohol-free beverages and vegetarian food. There are a whole lot of cuisines that are being served by various renowned and popular cafes and restaurants.
You can try Thukpas (Tibetan noodle soup) and momos (dumplings), along with turmeric tea, Kadai milk, and lassi (a popular yogurt-based drink in India).
Where to stay in Rishikesh?
ABD Holidays provides multiple options to stay in Rishikesh ranging from budget-friendly options to 5-star alternatives. If you want to visit Rishikesh, consider the below-mentioned hotel options for experiencing the most amazing stay.
We are thrilled to announce the Grand opening of the Dev Ganga Hotel. This amazing hotel in Rishikesh symbolizes positivity over negativity as per traditional belief and as per modern day, Dev Ganga hotel in Rishikesh aims at giving your centuries-old belief of "positivity" a reality. Beautifully decorated rooms at Dev Ganga hotel in Rishikesh make for excellent accommodation in the town. Consisting of a set of 26 rooms to choose from, this hotel in Rishikesh helps cater to the staying needs of visitors.
HOTEL COMFORT INN RISHIKESH has 38 Luxury rooms in 5 categories with contemporary Morden amenities & Facilities. This hotel in Rishikesh has a banquet hall with access to an open lawn & soundproof conference hall, a multi-cuisine Restaurant, Bar, Pool table, Gym Swimming Pool & Health Spa. The Dining options of this hotel in Rishikesh include the 24/7 Restaurant called LEMON DROP along with a rooftop terrace cafe called RAIN DROP offering all types of beverages, music, and a lively environment with a panoramic and mesmerizing view.
Bliss Ganga is not just a hotel in Rishikesh that will leave you breathless with the enchantment of its surroundings but also enables you to experience both physical and mental relaxation and realize the importance of a moment of calm and personal space in your busy life. Bliss Ganga hotel in Rishikesh is a new player in Uttarakhand's hospitality sector. This hotel in Rishikesh has accommodation of 46 Rooms including 23 Executive Rooms, and 06 Executive Rooms.
Wrapping It Up
Rishikesh is surely a place to experience complete tranquillity and harmony. Months between September to April are the best time to visit this divine place and it takes you on the journey of spiritual awakening and self-transforming. When you visit Rishikesh, opt for our wide range of hotels in Rishikesh for an amazing stay. ABD Holidays provides world-class services and hospitality that you have never experienced before. Come visit Rishikesh and experience the unsaid.