Find Travel Agent In Haridwar | 5 Temples to Visit | ABD Holidays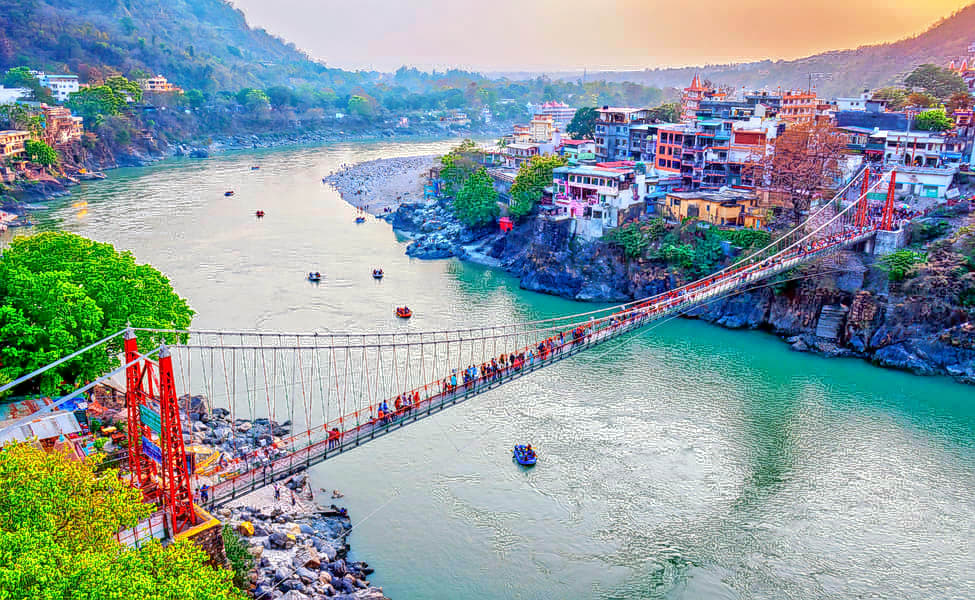 Haridwar, meaning 'Hari ka Dwar' or 'Gateway to God', is one of the holiest cities in India. In Haridwar situated in the state of Uttarakhand, devotees can explore a number of temples, peaceful ghats, ashrams, and several revered sites for Hindu pilgrims. Located on the banks of the Ganga – worshiped as the goddess Ganga Ma, Haridwar is home to Chandi Devi Temple, Mansa Devi Temple, Har Ki Pauri, Maya Devi Temples, and many more. So, if you would like to visit this city with your family, it would be good to perform a healthy search operation over the internet to find out the best Travel Agent In Haridwar.
Here are the popular temples in Haridwar that you must go to get their wishes granted:
Har Ki Pauri:
The holy ghat of Har Ki Pauri, refers to Lord Shiva's steps, is one of the finest places to visit in Haridwar. As per Indian mythology, devotees believe that Lord Vishnu along with Lord Shiva visited this place. So, if you take a dip in the Ganga River, you'll get your wishes granted. In addition to this, you will also get all your sins will get vanished. Most importantly, this ghat also hosts the Ganga aarti where a large number of devotees are gathered with their wishes.
Ganga Aarti: 5:30 am – 6:30 am and 6 pm – 7 pm
Location: Kharkhari, Haridwar
Timings: 24 hours a day
Note:
If you don't want to miss the aarti, contact the right Travel Agent in Haridwar for Booking regarding the same.
Maya Devi Temple, Haridwar:
Among several temples in Haridwar, Maya Devi Temple is one of the oldest ones. As per the Indian archaeology department, it was built in the 11th century. During Navratri and Kumbh Mela, hundreds of devotees visit this temple to seek the goddess' blessings.
Exact Location: Birla Ghat, Haridwar
Flexible Timings: 6 am to 8 pm
Shantikunj, Haridwar
Shantikunj in Haridwar is one of the most spiritual enlightenment places. Due to spiritual and moral upliftment, this center- a headquarter AWGP that stands for All World Gayatri Pariwar, has been visited by millions of people from every corner of India as well as the World. In addition, visitors will also find a research institute along with a residential university named as Dev Sanskriti Vishwavidyalaya. However, it is also one of the safest places to stay for free for a couple of days.
Location: Motichur, Haridwar
Timings: Round the clock
Chandi Devi Temple
Chandi Devi Temple, a place to Goddess Chandi, is another Siddh Peeth that millions of people visit year round. Situated on the top the Shivalik Hills' Neel Parvat, this temple is accessible by taking the ropeway or directly trekking to the temple. In the meantime, you can also find a bird's-eye view of Haridwar. Near this temple, you will also be able to find another popular religious place i.e. Gaurishankar Mahadev Temple.
Location: Neel Parvat, Haridwar
Timings: 6 am to 8 pm
Mansa Devi Temple:
Another holiest place in Haridwar is Mansa Devi Temple is located atop the Bilwa Parvat on the Shivalik Hills. Dedicated to Goddess Mansa, this temple is another Siddh Peeth that you can visit by taking the ropeway.
Location: Bilwa Parvat, Haridwar
Timings: 5 am to 9 pm
Last Few Lines…
You along with your family members can also explore many other places such as Rajaji National Park, Fun Valley, Crystal World, Chilla Wildlife Sanctuary, Neel Dhara Pakshi Vihar, and others. Those who love to explore the adventure activities including paragliding and white-water rafting can also go to Rishikesh- an hour's drive from Haridwar. All you need is a helping hand from a trusted Travel Agent In Haridwar if you're planning to visit there.
Fortunately, we are a reliable Travel Agent In Haridwar For Booking are also available at your closest disposal to assist. From your ticket booking to taking care of your amenities and letting you enjoy as many places as possible during your trip, we leave no stone unturned in making this tour memorable for you and exceeding your expectation.