Camping In Rishikesh Tour Packages | Book Online at Cheap Prices | ABD Holidays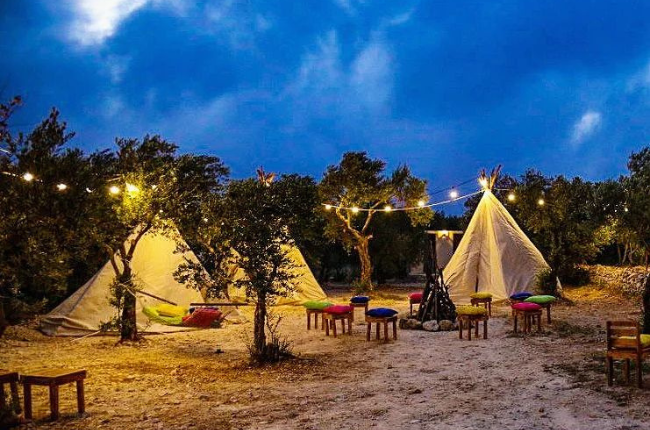 Nestled in the lap of the Himalayas, Rishikesh is one of the most beautiful places for camping in India. Sitting next to a flowing river, forest in the background, and the chirping of birds is what you'll witness while camping in Rishikesh.
Rishikesh is the adventure capital of India, and therefore one will have various types of camping options available in Rishikesh. To name a few, Jungle camping in Rishikesh, Beach camping in Rishikesh, Luxury camping in Rishikesh, Riverside camping in Rishikesh, Adventure Camping in Rishikesh, and Rafting and camping in Rishikesh are a few to name.
About camping in Rishikesh
Camping in Rishikesh is most-known because of the availability of plenty of adventures and scenic places around. While you are planning a trip camping in Rishikesh, there are a lot of activities and a day trip that you can plan to make the most out of your short vacation. River rafting, body surfing, cliff jumping, bonfire, and in-house volleyball are some of the most amazing activities to do while planning rafting and camping in Rishikesh.
With there being so many things to do and an ideal space to live in the closet of nature, camping in Rishikesh becomes more fun.
Best time to visit Rishikesh
Rishikesh is among those mesmerizing destinations that can be visited throughout the year due to its natural glory and adventure activities. You can visit Rishikesh in December and have one of the best moments of your life.
Although, the best probable time for camping in Rishikesh for camping changes according to the season. Late September to Mid-November and early March to the first week of May are recommended. Try avoiding the monsoon season because of the unwanted natural hassles and calamities. Also, the rapids in the Ganga river are on the surge during this time, and staying away from water during this period is advisable.
Importance of going camping in Rishikesh
Camping in Rishikesh turns out to be one of the best things a friend group can experience together. Imagine staying in nature camps on the beautiful Ganges river in the company of your buddies. You can also experience all sorts of activities such as bonfires, dining, night gazing, singing, and let the party mode on all the time. Also, it is most important that you stay in peaceful surroundings with a panoramic view of hills and easy accessibility to the river just 10-steps away.
Close accessibility to the crystal clear water of the river Ganges is something you cannot miss. One of the most popular sites for camping in Rishikesh is near the river, and of course, in a luxurious camp for experiencing a supreme level of comfort. Your group of friends does not just stay in the close vicinity of nature, but also experience an amazing connection with the hills, stunning views, a tranquil feeling inside, and much more. Simply saying, a nature retreat is something that calls for all the travelers here in Rishikesh and excites them to stay in camps.
As you know, Rishikesh offers a lot of adventurous activities that will fulfill your adrenaline rush. Along with your energetic group of friends, you would do at least one adventure sport to add new memories to your travel diaries. Staying in a riverside camp offers several advantages including adventure activities and sports like river rafting, trekking, cliff jumping, bungee jumping, etc. There are many camps and resorts in Rishikesh near the river Ganga that feature camp-like luxurious accommodation that is close to activities spots.
If you are in search of an adventurous trip to Rishikesh with your friends alongside, then camping is one of the best options for you. Here, you can get safe and protected accommodations near the river which are properly managed, cleaned, and sanitized by a certified hotel or camping staff. Ranging from basic to luxurious, you can experience various levels of comfort, convenience, and safety in camps as per your needs.
Important tips for camping in Rishikesh
Camping in Rishikesh is both engrossing and tempting, but alongside, it is equally dangerous and risky. Therefore, it is advised to keep a number of things in mind before treading those waters.
Everything that the instructor briefs are important and you need to listen to them carefully and strictly adhere.

It is important that you always wear a lifejacket or a personal floating device.

Be safe as well as comfortable in whatever you wear.

Hold the rafting paddle firmly.

Follow the commands and do not panic in case of an emergency.
Best camping tour packages in Rishikesh by ABD Holidays
We, ABD Holidays, provide camping in Rishikesh tour packages at cheap prices. You can choose from our affordable camping in Rishikesh tour packages listed on our website and experience the most beautiful places in Uttarakhand. You will visit Mussoorie, Rishikesh, Nainital, Corbett National Park, etc. by opting for our best packages.
Wrapping It Up
If camping is in your mind in the company of buddies, then do think about ABD Holidays for an unparallel experience. We are one of the best tour and travel agencies in Uttarakhand and offer an amazing touring experience in the foothills of mountains and natural paradise all around. To get more information, please visit our website.