Auli, Chopta tour package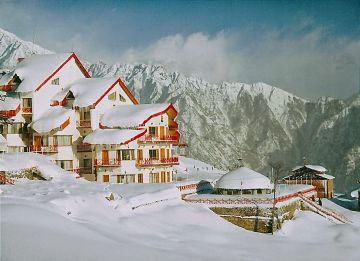 Clean-sliced mountains enveloped in white sheets of snow, long chains of oak and pine trees, and views that are breathtaking, Chopta and Auli are among the most beautiful towns of Uttarakhand. They are also among the most popular skiing destinations in India and offer the most mesmerizing views. From beautiful snow-capped mountains to acres of land filled with a large variety of trees, plants, and flowers, Chopta and Auli in Uttarakhand are every nature lover's dream destinations. There are several amazing places to visit in Chopta and Auli that boast unparalleled beauty, magnificent views, and experience that is unrivaled. Let's go through some of these amazing locations.
Best Time To Visit Auli and Chopta
Chopta and Auli can be visited all over the year, but the best time to visit this destination is from January to March. This is also the perfect time for skiing.
The weather is pleasant and the climate is very moderate with temperatures between 11 and 15-degree Celsius. It is the ideal time for sightseeing and visiting nearby locations.
Monsoon (July to October)
During the months of July to October, Auli receives a huge amount of rainfall, and the temperature hovers between 9 and 12-degree Celsius.
Winters (November to February)
Temperatures averages between 4 to 6 degrees Celsius with the minimum temperature going as low as -8 degree Celsius. This time is perfect if you want to witness the amazing snowfall of these places.
5 Best Locations To Visit In Auli
Auli is home to a significant number of trekking points and places of religious significance. Each and every one of these places offers experiences that will leave you in awe, along with a sense of satisfaction. Some of the most exuberant places in Auli are mentioned below for you to see and make an informed choice regarding your next trip to this quaint town.
Gurso Bugyal, known for Lush Green Pasture Land

Kwani Bugyal, the best place to explore The Magnificent Views

Auli Ropeway, known for The Longest Cable Car Ride in India.

Trishul Peak, witness the most Eye-pleasing Snow-clad Mountains

Rudraprayag, for witnessing The Spiritual Vibes
5 Best Places To Visit In Chopta
Are you looking for the best places to visit in Chopta, Uttarakhand? Chopta is a place known for its numerous enthralling spots and experiences. Below-mentioned is a list of the top places to visit in Chopta that will surely amp up the fun on your trip. Take a look at them and select what places will you cover on your next vacation.
Tungnath, known for being The Highest Temple in India.

Deoria Tal, a Quaint Spot

Chandrashila, witness the snow-Covered Hills

Ukhimath, praise The God and witness the spiritual vibes

Kanchula Korak Musk Deer Sanctuary, one of the best deer parks in India.
Why should you book Auli, Chopta tour package?
Planning for a trip to Auli or Chopta is not as hard as implementing it during the trip particularly if it is your first time. Also, if you want to have an enjoyable holiday, you must put in a lot of time and effort. You must also keep plenty of other factors in mind. Being on holiday, you cannot restrict your family or friends from enjoying themselves.
Spending money during a trip is among the key things people do for comfort and convenience and only with proper planning, this can be possible. Opting for a Chopta tour package has several gains such as releasing the burden of looking for everything by yourself. A Auli, Chopta tour package makes planning easier. Here are some reasons why you should contemplate the Auli, Chopta tour package.
Safe Traveling
The majority of the firms that offer a Auli, Chopta tour package are aware of situations at a certain place and the risks around it. Auli, Chopta tour package also comes in handy security-wise. For example, if you are drunk and are away from your country, travel agents got you covered if any case an accident occurs, unlike in a situation where a person arranged the trip by themselves.
Complete Tour
Auli, Chopta tour package usually comes with complete tours around the destination's attractions. If you don't have a clue about Chopta or Auli, a Auli, Chopta tour package becomes very necessary since you will go to an unknown location/place. The major goal of most tourists is to visit all the major spots and attractions around the location so they may enjoy the trip and get the best value their money can buy.
Best Services
Auli, Chopta tour package comes with the best services. A tourist will be able to enjoy almost everything being offered at the hotel, for instance, accommodation, gym, spa, and sauna. Getting these services without tour packages could be a costly deal.
Stress-Free
Booking yourself a Auli, Chopta tour package makes you relax and calm since everything is already put up in place. These packages save you the time of booking accommodation, booking flights, and also booking hotel rooms. Everything will be done by the agents on your behalf, and all you have to do is pay for the services being offered and enjoy the trip and place.
Cost Saver
The best and biggest gain of the Auli, Chopta tour package is they are cost-saving. The total amount it would cost you to book a trip using a Auli, Chopta tour package would be much cheaper compared to taking the same trip on an individual basis. Because of this reason, the Auli, Chopta tour package has better pay rates on airfares, hotel tariffs, and more used commodities.
Wrapping It Up
Concluding the article, the best way of enjoying a Chota and Auli trip is to book the best Auli, Chopta tour package. With ABD Holidays, get affordable Auli, Chopta tour package and save yourself the hustle of spending an extra amount of money. Excellent Auli, Chopta tour package allow you to travel with family and have an enjoyable time while on tour. These packages are extremely convenient and are a source of comfort and a way of ensuring a memorable trip and holiday.