How to complete Do Dham Yatra in 05 Days?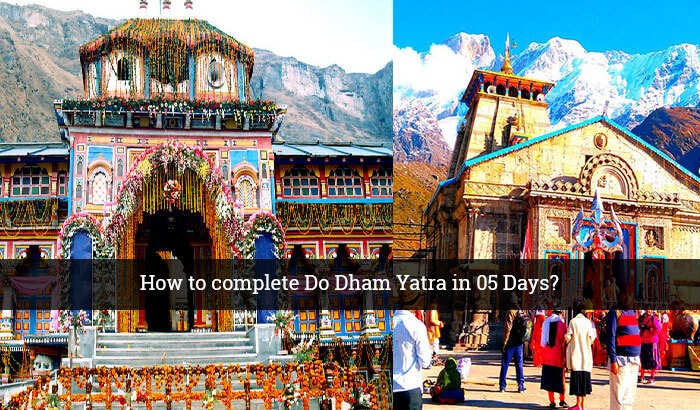 Do Dham Yatra is one of the famous Hindu pilgrimages in Uttarakhand that includes visiting the two significant holy sites, Badrinath and Kedarnath Shrines. When and how these pilgrims got associated with Do Dham, is not known yet. Although, both of these places have high relevance in Hinduism and have a legendary history.
The pilgrims start their journey from the Kedarnath Dham (the abode of Lord Shiva) and then proceed to the Badrinath Temple (the temple of Lord Vishnu). This concludes their Do Dham Yatra.
If you want to do Do Dham Yatra in just 5 days, this blog will help you to understand how to complete your Do Dham Yatra? Also, if you do not want to do all the research, documentation, and all other arrangements on your own, just contact ABD Holidays and we will do all these on your behalf. With our Do Dham Yatra package, you will also enjoy our best services along with unlimited facilities and amenities on the tour which will make this a memorable tour for you.
Best time to visit Do Dham Yatra
Though most people live to visit the Do Dham Yatra during the monsoon season, we would suggest you avoid visiting during this period. The best time to visit here is between May and June when you can experience clear skies, little rain or humidity in the air, and amazing floral arrangements that will make your trip worth it. As July and August are months of the rainy season, so the Do Dham Yatra should be avoided during this period. September to November is considered the colder months and many people also love to visit during this time. People who are able to tackle extreme weather conditions can do Do Dham Yatra during this time.
Do Dham Yatra (Itinerary for 5 days)
Below mentioned the itinerary for 5 days of the Do Dham Yatra package provided by ABD Holidays. Read along to know more.
Day:1 Departure from Haridwar (Sitapur/Phata)
In the morning, we meet our driver at the Haridwar Railway Station and drive to Sitapur via Guptkashi. Later, we drive straight to Sitapur/Phata and check into the hotel for dinner and an overnight stay.
Day:2 Sitapur/Phata - Sonprayag - Gourikund Sri Kedarnath Baba-Sonprayag - Gourikund - Sitapur / Phata
After having breakfast on day 2 of the Do Dham Yatra, we will drive to Sonprayag, after then we start our Trek for Kedarnath from Sonprayag, On route, we will visit Gourikund, reach Kedarnath Ji Mandir to visit the temple, and spend some relaxing time in the mesmerizing surroundings. After that we will go back to Sonprayag, Our driver will be picking you up to proceed back to the hotel, for Dinner and Overnight stay.
Day:3 Sitapur/Phata - Piplakoti
After having our breakfast, we will check out from the hotel and then proceed to Pipalkoti, via Chamoli, Then we will check in to the hotel and have our overnight stay at Piplakoti.
Day:4 Piplakoti - Joshimath - Badrinath - Pipalkoti
Today morning, we will be leaving for Shri Badrinath Ji Temple. We will visit the Narsingh Temple, Aadi Shankracharya Math at Joshimath, and drive to Badrinath. After the arrival, we will perform the Pooja, do Darshan, and spend some time exploring the temple. At noon, we will drive to Joshimath /Piplakoti and overnight stay there.
Badrinath is one of the 'ancient Four Dhams' and is one of the most celebrated pilgrimage spots in the country. It is situated at an elevation of 3,133 meters, with the two mountain ranges known as Nar and Narayan on either side, along with the towering Neelkanth Peak that provides a splendid backdrop. This revered site was once carpeted with wild berries. Therefore, the place got the name "Badri van" meaning a forest of berries.
Day:5 Pipalkoti / Joshimath - Haridwar
In the morning after breakfast, we will check out from the hotel and then proceed on our drive to Haridwar via Rishikesh. After that, you will be dropped at the Haridwar Railway Station with many sweet memories of the trip.
Wrapping It Up
Uttarakhand is a very famous pilgrimage spot, and many people from all over the world come here for the Do Dham yatra. If you are planning the Do Dham yatra, it is a worthy opportunity worth explore the beauty of Uttarakhand. Book now for the Do Dham Yatra package with ABD Holidays.